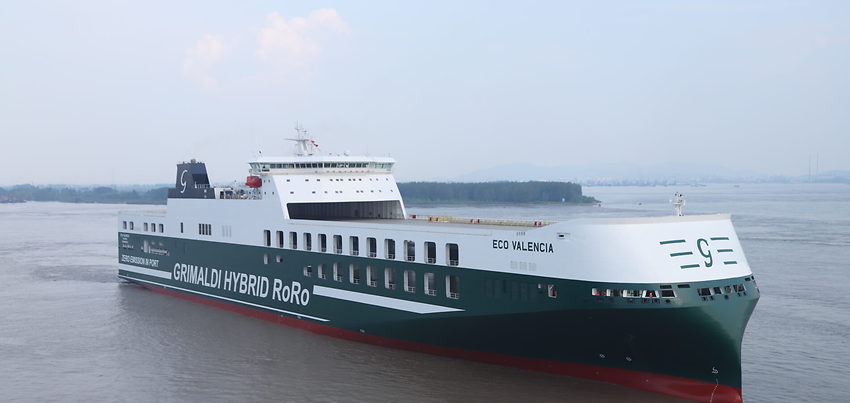 Grimaldi Lines has ordered 12 roll-on/roll-off ships, where Elektromontage has been commissioned to build the control cabinets. Today we have delivered half of the cabinets to the ships, which are not only green in colour but also the greenest in the world from an environmental point of view.
The first ship that the Jinling shipyard handed over to Grimaldi Lines is the 238-meter-long Eco Valencia – a hybrid ship equipped with, among other things, 600 m2 of solar panels and large battery systems to minimise emissions in ports. Eco Valencia also has a system to produce micro bubbles between the hull and the water to reduce resistance.
In total, 12 roll-on/roll-off ships, cargo vessels designed to allow easy loading on board and on land, will be built.
For us at Elektromontage, the work building control cabinets for the 12 ships ordered began in 2019. So far, we have delivered half of this, and next year we expect to achieve the goal of the project, which has an order value of approximately SEK 8 million.
– We received the order in tight competition from companies all over the world. It is very satisfying that we, as a relatively small player from Sweden, can land this order and meet our customers expectations, in this kind of complex project, says our sales manager, Morgan Hägg.
At Elektromontage, Mikael Blomqvist has been responsible for the project.
– The control cabinets we have delivered are all over the boat, even on the bridge. They control all openable ramps, doors and covers.
The cabinets are built by Elektromontage's production unit in Lithuania.
– I have managed the project from our office in Söderköping, in close contact with both the customer and the production unit in Lithuania. We also visited our production unit to perform tests before the classification society came for final approval of the cabinets.