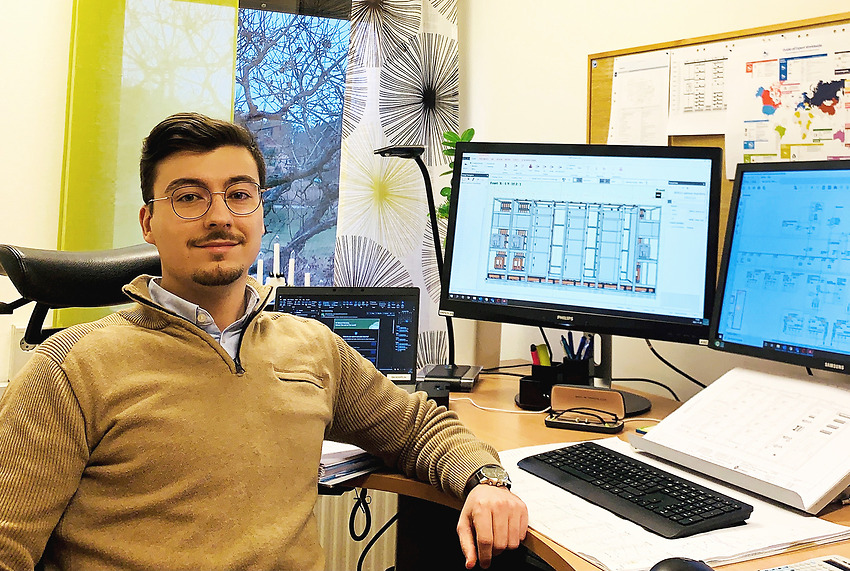 Elektromontage attracts both customers and employees from all over the world. Our designer Eduard Mustata moved here from Bucharest in 2019. Today, he works primarily for the North American market and appreciates the opportunity of being able to enter the factory and see how his designs work, in reality.
Eduard Mustata moved from Bucharest in April 2019 to start working as an electrical designer with us. He mainly works with switchgear, motor control centres and industrial control panels for the North American market.
– I have worked as a consultant at Elektromontage before. After having been here twice, I decided to move here. I like how Elektromontage thinks, it aligns with the way I want to work.
From the very beginning, he has been involved in the work on UL/CSA certification, which applies to the North American market, so this was also a reason for the move.
– Valutech was one of my first projects when I worked as a consultant, but I was unable to complete it from home. I was curious if I could understand and implement UL projects all the way. Now I have finished several projects.
Is involved in the entire chain
As an electrical designer, Eduard has spent most of the working time in front of the computer.
– At Elektromontage, I also see the result. I participate in the factory to see and test if my design works, and I can solve problems right away if something is not working properly.
Eduard tells us that he enjoys Sweden, especially in the summer.
– People here have long-term visions, goals and want to do good things. I think the same way.
He is not alone in coming from abroad. Alexander from Belarus and Christian from Germany are also working with us.
I have good colleagues; many are young and we always have things to discuss. I understand a little Swedish, but at work we speak English.