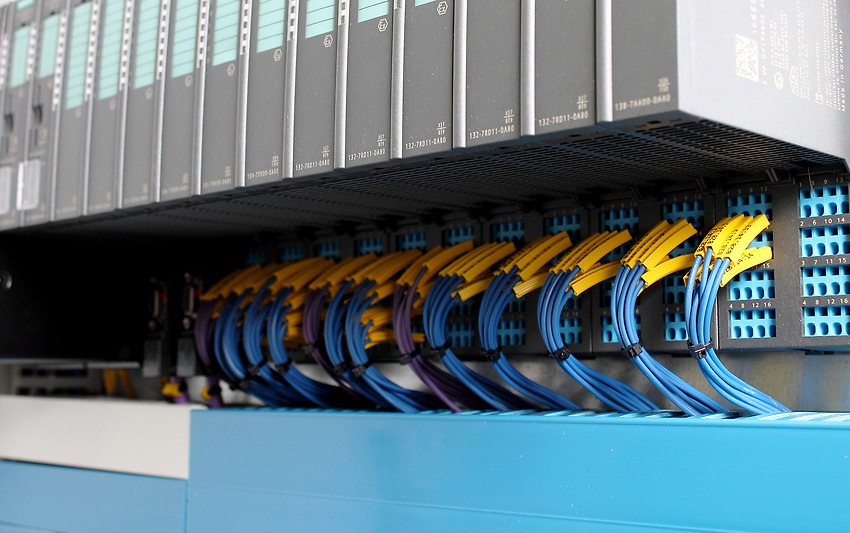 All assignments that the sales department sells go to our engineering department. There, designers, project managers and engineers work to realise the wishes of the customers. It requires a lot of our staff, including flexibility, knowledge and will, since we deal in an international arena and have both certifications and classifications to keep in mind.
In our engineering department, we have eight designers, engineers and project managers of various ages with different backgrounds and nationalities. From time to time, previous part-owner Leif Bengtsson stops by and contributes with his knowledge.
– The technology is changing, but not in a day. Especially on the machine side. In order to maintain the transfer of knowledge, we always make sure that we have at least two people working in each area," says Technical Manager Lars Friberg.
Stefan Grönlund is one of our Project Managers and designers who has been here for a long time.
– We work with single unit production; nothing is produced in series. There is always something that needs to be changed due to different requirements given the fact that we deliver to the whole world. We live by the fact that we are skilled at tackling different demands, that we are so flexible and that we customise all our solutions, he says.
A technology department with many functions
It is our task to provide production with design documentation and we manage projects, get materials and ensure that we keep to the schedule.
– Customers often have a desire for a function. It is our task to realise requests within a reasonable time and at a reasonable cost, says Lars.
As these are often specialised solutions, a high level of expertise, willingness and flexibility is required.
– We have a niche in what others find difficult and most of our products are exported. We work with both certifications and classifications. Working in an international arena is a fun challenge and Elektromontage has a good reputation of being a technically skilled company.
Customers with long history
Elektromontage has a long relationship with several customers, including ABB, whom we have manufactured terminal boxes (control and measuring boxes) for since 1995. We have been manufacturing marine power distribution and automation equipment for Wärtsilä since 2010.
– For ABB, we install in custom-designed enclosures, components that will protect and control their generators or motors. Since every piece of equipment is unique and there can be anything between 6.3V – 13.8kV with 300A – 6 000A transported in the boxes, we need to be flexible in design and construction, says Stefan.
We work with ABB Motors in Västerås, but the boxes go to customers all over the world. The boxes we build must be adapted to suit both the customer's requirements and ABB's equipment.
– ABB has outsourced that part to us. They know that we have the knowledge that is required and what they can expect from us.
For Wärtsilä, we build power distributions, consoles, UPS and control cabinets for ships that handle oil and gas.
– Ships are large, but the control rooms are small and often warm. We must adapt to this in material selection and design. We design and manage projects according to the customer's requirements and wishes, manage contact with different classification companies, have our customer and their customer at the Factory Acceptance Test and manage classification. The projects are complex, so we can make the most of our engineering.
Carried on well despite the COVID-19
Despite the pandemic of the past year, Elektromontage has not had a major production stop.
– The opportunity to work remotely came into place. Only a year earlier, it would not have worked. We are running production-related operations, but we are moving toward being able to do more and more things remotely, says Lars.