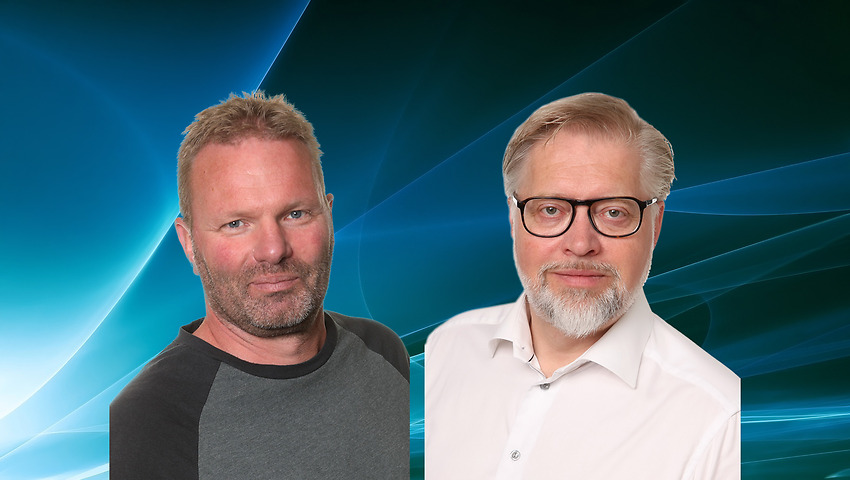 In the picture: Anders Göransson and Roberth Karlsson

It has now been 31 years since Anders Göransson started working at our factory in Söderköping. Early on, he took great responsibility in the workshop and today he works as a project manager. To have the experience and competence that Anders possesses means a lot for the company. His competence and experience also gives our customers peace of mind.
Anders Göransson had heard positive things about Elektromontage. He applied for a job in the workshop when he moved to Söderköping 31 years ago. He has stayed with us since then.
– I really like it here and the work is diverse. Early on, I had to take responsibility for certain parts of various projects, and I became a project manager ten years ago. I have been able to develop while working here, and I have never felt bored at work.
Development is one of the keys to Anders having gotten along so well in his workplace for so long.
– Being given responsibility and solving problems that arise along the way with customers in order to get the best product possible is stimulating. And I think customer contact is fun.
Experience, knowledge and continuity
Roberth Karlsson, our Managing Director, says that having employees who have the experience and knowledge which Anders possesses means a lot for the company.
– It provides continuity in the work and gives customers peace of mind. We strive to use our more experienced employees more to transfer knowledge to the younger ones.
According to Roberth, one of Anders' main strengths is that he is incredibly thorough and orderly.
– If Anders says that something should be done at a certain time, you can always trust him. Not only is he reliable and loyal, but he is also a very kind perosn.
Lead times are getting shorter
Elektromontage has changed a lot since Anders started. The most obvious thing is that the time from when an order arrives until final delivery has become significantly shorter. This results in higher demands in the preparation work.
– It is a matter of buying the right materials at the right time to enable us to deliver on time. For me, it is encouraging to be involved in the whole process, from the first phase in quotation support until the product is delivered.
When he started, we delivered mainly to customers in Sweden, now we deliver more directly to customers abroad. That is why we have also built a production unit in Lithuania.
– It has been a challenge, but fun and stimulating at the same time. It has been an incentive for me to practice my language skills, he laughs.
Benefit from his years in the workshop
Anders tells us that today he has enormous benefits from his years in the workshop.
– I hope and believe that the assembly staff have great confidence in me. I have put together cabinets and boxes and know what I'm talking about.
The fact that he has the knowledge and understanding of the process is also good for customers.
– I can come up with ideas and suggestions for solutions. If something does not work, I can detect and correct it at an early stage. My focus is on ensuring that we produce a good product in the right time.
How do you see the future?
– I see myself continuing here. I am enjoying it and going to work is fun and stimulating.